Meet our Restaurant
One of the key elements that constitute a successful getaway are gastronomical delights as part of the whole process.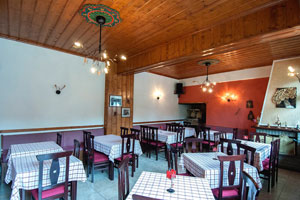 It is widely claimed that gastronomical tourism is one of the most interesting forms of tourism. Consequently, the whole food process is a ritual for us.
The steps of this ritual, followed each time with surgical precision by the owners of the guesthouse, who with their long experience in catering, will show you the paths of the traditional local flavors.
The first step of the process begins the night before, with the preparation of the food materials that you are going to eat the next day. It is clarified that all materials used by Mrs. Violeta in her kitchen are from her garden, which she is cultivated with extra care throughout the year. Also, all the meat served is from certified farms around the area.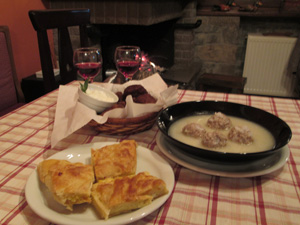 In the morning, along with the preparation of the breakfast, the dishes are placed slowly into the firewood oven in order to be to cooked and ready on time for lunch. By mid-day, you will find yourself next to the fireplace with a small glass of tsipouro for appetite. Then you will change this drink and you will replace it with wine, which along with raki is produced by Mr. George in his distillery. Finally, your lunch will be served right after its removal of the fire.
Perfect and delicious suggestions are the pies of Mrs. Violeta, her meatballs, the lamb in the pot and in summer the stuffed tomatoes from her garden. Besides, do not forget to try the bores that brings Mr. George from the mountain.
Finally, you would have to leave some space in your stomach, for one of the delicious sweets and syrups made by Mrs. Violeta's hands.